When it's time to say goodbye to your old swimming pool, we've got the tools and experience to handle the job.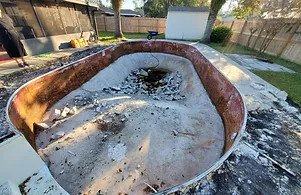 Pools are extremely common here in Jacksonville, Florida, but if yours has reached the end of its lifespan, is detracting from the value of your home, or has become a danger to you and your loved ones, you'll need to hire an experienced pool demolition company to handle it. Here at All American Debris & Wrecking, we've been in the demolition business for over 20 years, and during that time, we've helped plenty of homeowners get rid of their old pools.
The first thing we'll do when you reach out to us about pool demolition is set up a time to meet with you at the property. We'll carefully inspect the pool and your property to create a custom estimate for its demolition. You'll never find one-size-fits-all quotes with our team, as we understand that every pool and property is unique. After we create a plan for your pool demolition, we'll provide you with a quote. If you accept our quote, we'll get your pool demolition scheduled as soon as possible and communicate the projected timeline with you so there are no surprises.
Unlike a general contractor who also does demolition work on the side, we only do demolitions, making us experts in the field. We're also specifically licensed to do demolitions here in Jacksonville, which means we know and abide by all the local regulations pertaining to demolition work. Because we've built our business solely around demolitions, we know how to handle the pool demolition process from start to finish. Our team will leave you with a property that is either ready for you to install a new pool or that looks like you never had a pool in the first place.
If you'd like to learn more about pool demolition or are ready to schedule your free estimate, contact our office to get started!
---
At All American Debris & Wrecking, we offer pool demolition services in Jacksonville, Jacksonville Beach, Atlantic Beach, Neptune Beach, Callahan, Yulee, and Fernandina Beach, Florida.